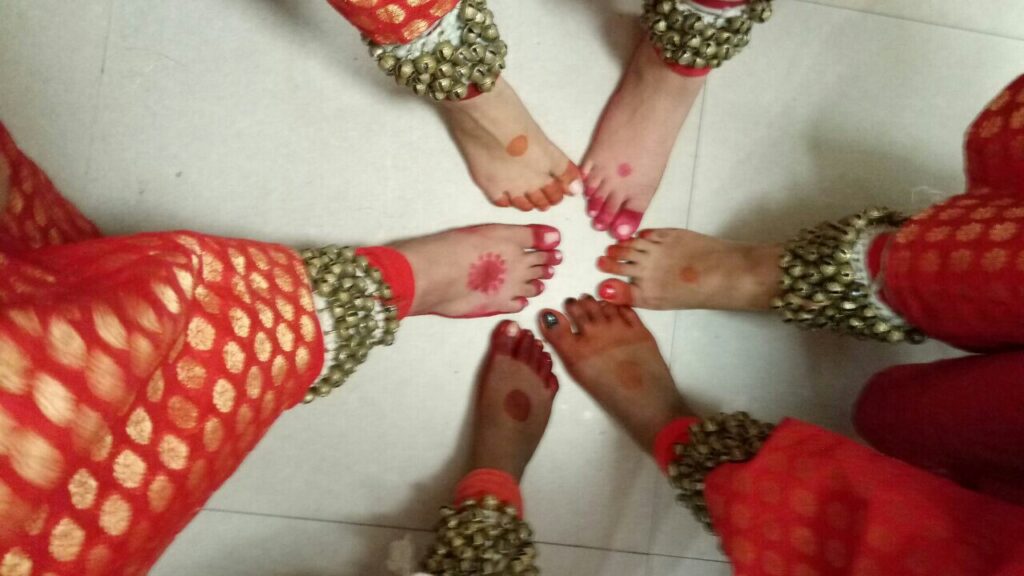 The Kathak Dance Classes in America-California offer a gateway to a world of rhythm, grace, and tradition. Kathak, a classical dance art form of India, has crossed geographical boundaries and reached one such hub of cultural diversity and artistic expression in California, USA, where Kathak dance has gained popularity, offering individuals to learn Indian Classical Dance. Kathak Dance Classes in America – California serve as more than just dance lessons; they act as cultural bridges, fostering an understanding of India's rich artistic heritage.
Kathak dance is a traditional Indian dance that has found resonance on American soil. The Kathak Dance Classes in America-California is a fusion of rhythmic patterns, emotive movements, and historical narratives making it a captivating choice for those seeking a holistic dance experience. If you're based in California and intrigued by Kathak dance, you're in the right place.
Kathak Dance Classes in America-California: A Cultural Journey
The popularity of Kathak Dance Classes in America-California has been steadily rising. Across cities like Los Angeles, San Francisco, and San Diego, individuals have the opportunity to discover cultural appreciation through the art of Kathak Dance. Renowned instructors and academies have established themselves as pillars of this cultural exchange.
One such notable name in Online Kathak Dance Classes in America-California is "Kathak By Neha," founded by the esteemed Kathak Trainer Neha Khunteta. With over 15 years of experience, Neha Khunteta has not only honed her own skills but also fostered a vibrant community of Kathak enthusiasts. The academy offers Kathak classes that cater to students of all ages and skill levels, providing a platform for aspiring dancers to cultivate their passion and understanding of this classical art form.
The Light Of Dance Academy
The Light of Dance Academy is providing Kathak Dance Classes in America-California with a presence in two distinct spots within Northern California, namely Folsom and Mather, the academy is dedicated to delivering a Kathak training approach.
Kathak Kala Academy
Kathak Kala Academy is one of the Kathak Dance Classes in America-California situated in greater Los Angeles, producing numerous artists across San Fernando Valley, Pasadena, and West LA.
Dance Karishma Indian Dance Academy
DanceKarishma Kathak Dance Classes in America-California, established by Jaya Sharma and Nikhil Sharma. They run the school to channel their dance passion and inspire appreciation for India's classical dance styles.
Leela Institute of Kathak
The Leela Institute of Kathak Dance Classes in America-California ( Los Angeles, San Francisco, Denver, New York ) gives education and preparatory training in kathak for enthusiastic individuals across different age groups.
Chitresh Das Institute
Chitresh Das Institute, Kathak Dance Classes in America-California ( San Francisco) are guided by instructors who received training from the Kathak maestro, Pandit Chitresh Das. dedicated to fostering holistic development all within the realm of Kathak Dance.
Nupur Dance Academy
Institute for Indian Classical Performing Arts is Kathak Dance Classes in America-California (Los Angeles ) passing down Indian culture to upcoming generations through the medium of music and dance.
Kathak Classes in California reflect the diversity and passion that this dance form ignites. From traditional teaching methods to innovative projects that infuse modernity, each institution plays a vital role in preserving and evolving Kathak. These institutions not only impart dance techniques but also foster cultural appreciation, discipline, and a deeper connection to Indian heritage.
P.S.: As the Author of this article, I might want to stretch out my appreciation to the referenced Kathak organizations for their priceless commitments to protecting and advancing the rich social legacy of Kathak Dance in California. Assuming there are any updates or corrections required, Please feel free to reach out. It's amazing to observe the commitment and passion of these Academies and their teachers in supporting Kathak. Let's continue to support and celebrate their efforts in sharing the timeless beauty of Kathak with enthusiasts and learners alike.
About the Author: – Neha Khunteta
Neha Khunteta is a highly experienced Kathak dancer and trainer with over 15 years of experience. She is the founder of Kathak By Neha, one of the Best Kathak Dance Academies. With her profound expertise and experience, Neha has established herself as one of the foremost educators in Kathak.
If you are interested in learning more about Kathak dance or finding out about Neha's upcoming workshops and classes, please visit her website or contact her through the details provided in the blog.
Should you require further assistance or insights, please don't hesitate to reach out to us through the following channels: contact us on
Email: neha@kathakbyneha.in or contact: +91-8619116616
Stay connected with us on Quora, Instagram, Facebook, and subscribe Youtube channel for enriching video content.