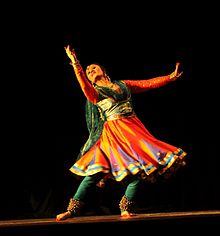 image source: wikipedia
Kathak is one of the prominent dance styles of Indian classical dance forms. It is among the 9 forms of Indian Classical Dance. Kathak is native of North India.  According to the Hindu mythology, Kathak is derived from the word Katha. There is a famous saying about Kathak ' कथा करे सा कथक कहावे ' which means the person who recites story is known as Kathak.
In ancient times storytelling plays an important role in the entertainment of people. Storytelling through the mouth wasn't the only way to depict the entire scenario of the play. These Kathakas communicated mythological stories through music, dance, and songs in temples. This performing art includes ancient mythology and great Indian epics, especially Lord Krishna Leela (life story). It had been presumed that beginning of the Kathak was by Valmiki Ji. In the era of Ramayan disciples of Valmiki Ji and son of Lord Ram, Luv and Kush recited the entire story of Ram through singing.  That is why Kathak is also known as Kushi Luv.
Kathakars were appointed in the temple to present the mythological stories through dance and singing. Many changes had been seen in India when Muslim rulers entered Indian Territory. Kathak was the part of the spiritual development but during the Mughal period, it had become the source of entertainment for the Muslim courts. Few Kathakas attached to temples and others joined Mughal courts. Kathakas joined Mughal courts started performing according to the wishes of Muslim rulers. From here onwards taal and shringaar became a crucial part of Kathak.
After the independence of India, Kathak has reached new dimensions of name and fame with the help of government by establishing many Kathak institutions and organizing many cultural programs. The government has established Kathak Kendra in the prominent cities and provides scholarships in dance to promote dance education. Government also honor Kathak artist and send them for cultural exchange programs throughout the globe which has given prestige to this Indian Classical Dance form 'Kathak' in the entire world.
FAQ'S Related To Kathak: A Indian Classical Dance Form
In which period of time the development of Kathak can be traced?
In the history, development of Kathak can be traced.
Mughal Times: Kathak has part its ways from temple to Mughal courts in this period. Kathakas joined Mughal courts and made changes in the dancing style according to the wishes of Muslim Rulers. In this era Kathak, Hindu culture of spirituality combined with the Muslim culture and from here taal and Shringar Ras can be traced in Kathak.
Nawab Wajid Ali Shah: History reminisce the contribution of Nawab Wajid Ali Shah in Kathak. He learned Kathak from renowned Kathak artist Thakur Prasad Ji. He was also well versed in music and developed many Gat and Thumris.
British: It was the time when Kathak left the Courts of Nawabs and reached to the Brothel.
Raja Chakra Dhar Singh: Just like Nawab Wajid Ali Shah Raja Chakra Dhar Singh has a major contribution to the development of Kathak He was an art lover and wrote four texts.
She is a Kathak Artist and has been associated with it for more than 10 years and the founder of Kathak By Neha the best Kathak dance academy in Jaipur.
Hope this blog helps you in some other way; feel free to contact us on
Email: kathakbyneha@gmail.com  or +91-8619116616
Don't forget to follow us on Quora, Instagram, Facebook, and subscribe on Youtube for videos